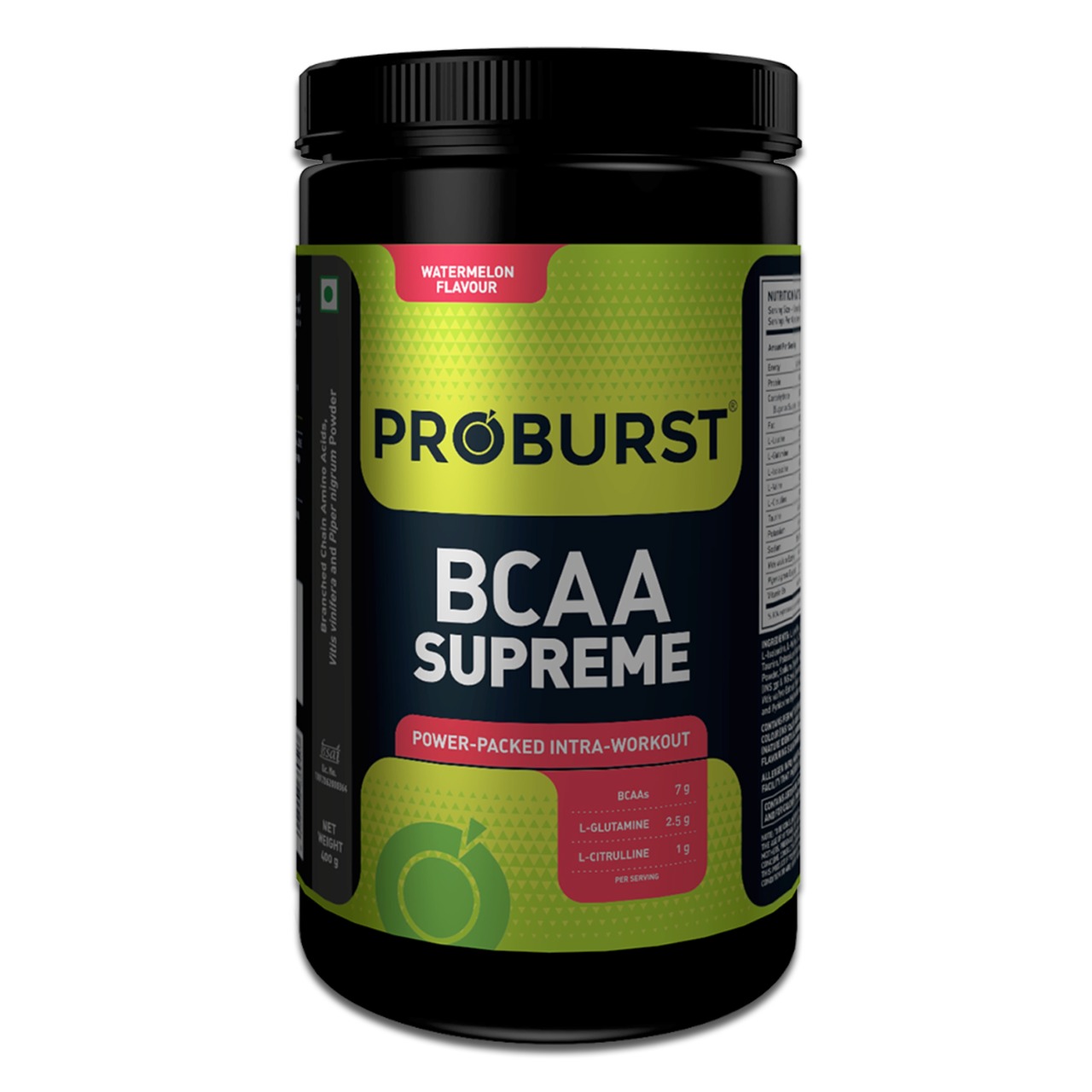 PROBURST BCAA Supreme supplement
Features:
Improves muscle recovery & glucose tolerance
Reduces post workout muscle soreness.
Helps the body to maintain its anti catabolic stage.
Gives more amino acids.
Contains a supreme blend of BCAA, L-Glutamine, L-Citrulline, Taurine, Vitis Vinifera extract, Piper Nigrum extract & Vitamin B6.
Description

The supreme formulation of Proburst BCAA Supreme gives you even more amino acids to reduce fatigue and soreness, so you can make your workout supremely effective.

Containing natural extracts of piper nigrum (black pepper) and vitis vinifera (grape seed) along with BCAAs, Proburst BCAA Supreme is formulated to improve metabolism and enhance recovery.
Piper Nigrum extract has metabolism improving properties.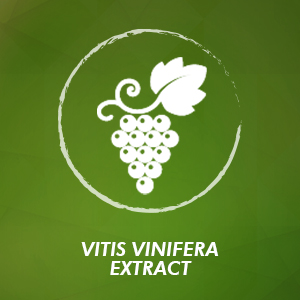 Vitis Vinifera extract is known to promote healing and improving bone strength.

Professional and amateur sportspersons with a highly active lifestyle are likely to find the most benefit from this formulation.
Want to improve your recovery time to keep going in your training?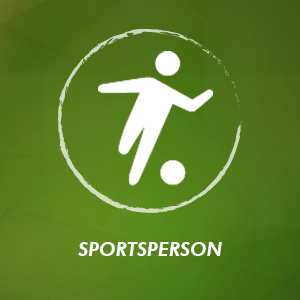 Proburst BCAA Supreme gives you the right intra workout boost to break all records.

Our supreme formulation comes in a variety of delicious flavours and contains more amino acids per serving than any other supplement in the market.
Supreme formulation with carefully selected high quality ingredients.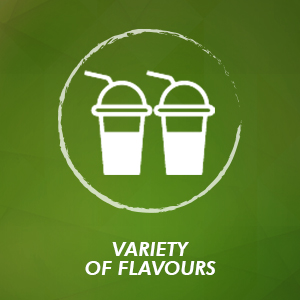 Variety of flavours so you can enjoy great taste while you train.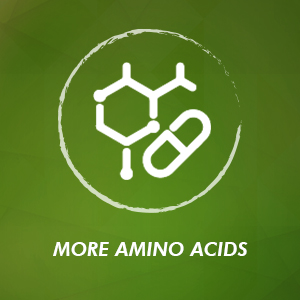 More amino acids for better and visible results.

With regular use of Proburst BCAA Supreme, your glucose tolerance and muscle recovery shows significant improvement while also reducing post workout muscle soreness.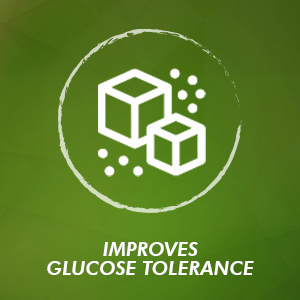 Improve your glucose tolerance with our special formulation.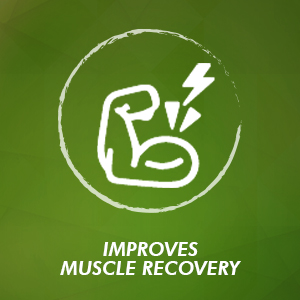 Recover faster from tough training sessions and intense activity.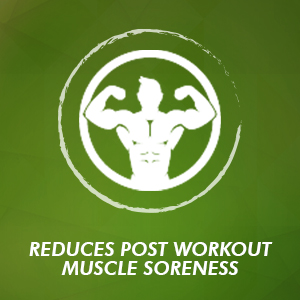 Feel less muscle soreness after workout and train harder than ever before.

Proburst BCAA Supreme absorbs quickly into the body to better and quicker results while easily fitting into your budget. You can find our product, with its variety of flavours, wherever you go.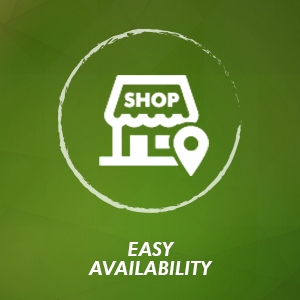 Easily available in online and offline stores.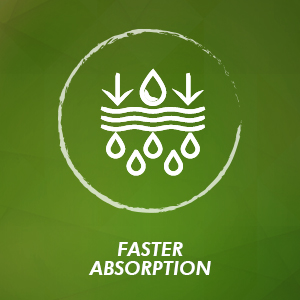 Absorbs faster for maximum effectiveness.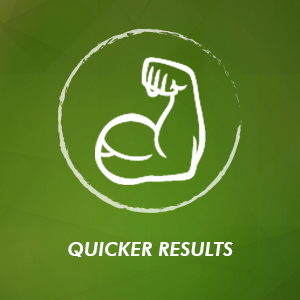 Give quicker results that most other brands.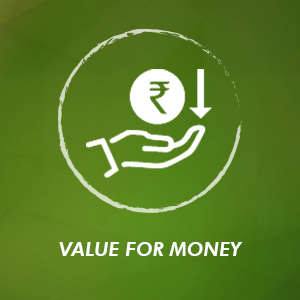 A value for money product that does not break the budget.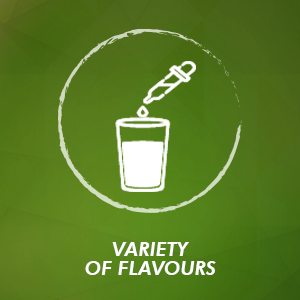 Get a variety of flavours to suit your taste.

Our products and manufacturing plant have been certified for top notch hygiene and quality. We are USFDA approved, Halal certified, NSF International certified, Kosher certified, and FSSAI approved.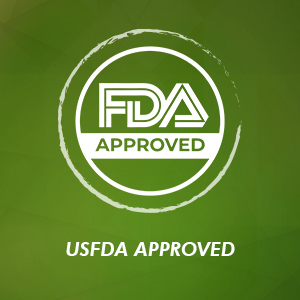 Approved by the USFDA for safety and efficacy.
Halal certified product that meets all requirements.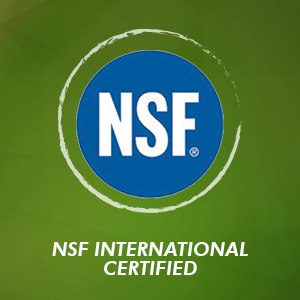 Meets the strict standards of NSF International Certification.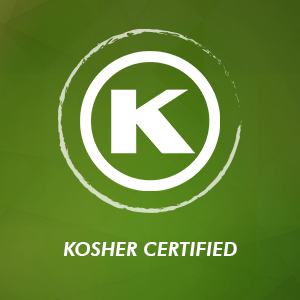 Approved and certified to meet Kosher requirements.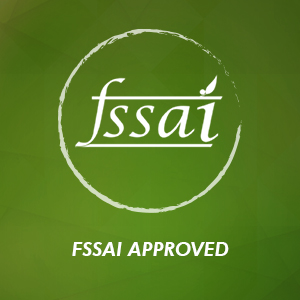 Approved by FSSAI for food safety.
With Proburst you don't need to worry about the authenticity of the product you receive. Simply authenticate your product via SMS to know you have purchased a genuine Proburst product.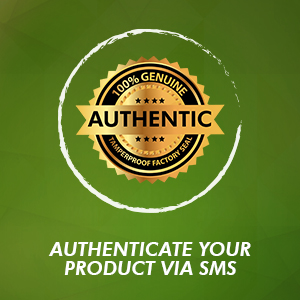 Simple and quick authentication process via SMS to put your mind at ease.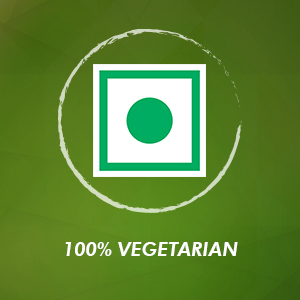 Our product is 100% vegetarian to meet the dietary requirements of a majority of the population.
Additional information
Product Description

Proburst BCAA Supreme improves muscle recovery & glucose tolerance while at the same time reducing post workout muscle soreness. It also helps the body to maintain its anti catabolic stage. This supreme formulation gives more amino acids.

About this item

• Improves muscle recovery
• Improves glucose tolerance
• Reduces post workout muscle soreness

FlavoursBlue Raspberry

Pink Lemonade, Blue Raspberry, Mango, Green Apple, Watermelon

Sizes

125gm, 400gm

Ingredients

BCAA, L- glutamine, L- Citrulline, Taurine, Vitis vinifera extract, Piper nigrum extract, Vit. B6

Maximum Shelf Life

2 years

Usage Directions

1 serving per day during or after workout

Brand

Proburst

Material Feature

Vegetarian

Country of Origin

India

Manufacturer

Tirupati Wellness LLP, Tirupati Wellness LLP, Nahan Road, Paonta Sahib, Himachal Pradesh-173001, +91 8894781521

Packer

Tirupati Wellness LLP, Nahan Road, Paonta Sahib, Himachal Pradesh-173001, +91 8894781521

Included Components

BCAA